Landscape Design Services Alpharetta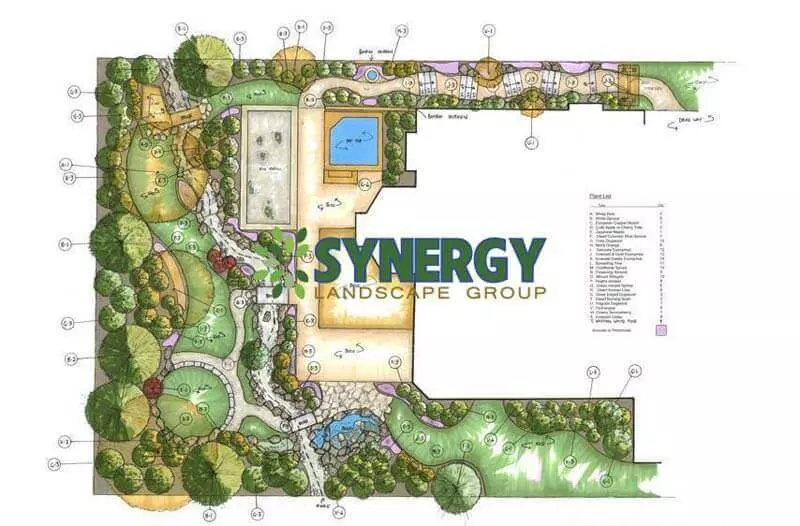 What's the point in landscape design for your property? If done correctly, a thoughtful, well-designed landscape can enhance the beauty of your property, make it more energy-efficient, and add value. A good landscape design combines functionality with visual appeal. Add a beautiful design with careful installation and thoughtful, customizable landscape maintenance services, and you've got a good idea of what Synergy Landscape Group offers Alpharetta and the surrounding areas.
Our team can provide you with full-service commercial and residential landscaping. Start by collaborating with our professionals on a landscape design tailored to your property's needs, then kick back and relax while we expertly install your chosen improvements. After the installation is complete, Synergy Landscape Group can provide a comprehensive weekly maintenance program customizable to your specific wants and needs.
Why Choose Synergy Landscape Group?
Synergy Landscape Group has been in service for over 30 years. During that time, we've worked on a variety of property-improving projects. From hardscapes to water features to lawn care, we've got what it takes to create and maintain beautiful, functional landscapes. We pride ourselves on reliable, sustainable service. Our team of professionals only uses the best-looking plant material from top-tier local nurseries and tree farms. We can ensure the best chances of long-term refinement on your commercial or residential property by using quality plants.
Commercial & Residential Landscape Design Alpharetta
Synergy Landscape Group offers a wide range of services to suit your goals and property needs. For instance, commercial landscaping expectations can be different from residential landscaping projects. Our professional team knows how much a thoughtful design can add to your property. Commercial landscaping requires a polished look and feel – unique to the existing layout of the premises. Residential landscaping can be more personal, and Synergy Landscape Group can customize your landscape design to your individual goals.
Types of Landscapes We Design
We can add just about anything to your property:
Hardscapes

Retaining walls
Paver patios
Firepits
Walkways
Outdoor Living Amenities

Fireplaces
Grills and Bars
Kitchens
Lighting
Drainage Solutions

Dry Creek Beds
French Drains
Channel Drains
Grading
Lawncare
Seasonal Planting
Landscape Design Ideas and Examples
If you can dream it, we can do it! Synergy Landscape Group is dedicated to sustainable, environmentally friendly landscaping services for commercial or residential properties in Alpharetta ad the surrounding areas. Here are some examples of completed commercial landscaping and residential landscaping projects by Synergy Landscape Group.
Contact Us for Professional Landscape Design in Alpharetta
We pride ourselves on long-term relationships with our customers at Synergy Landscape Group. Are you ready to improve and enhance your residential or commercial property? To book a consultation or learn more about our landscape design services in Alpharetta and the surrounding areas, call 770-889-4968.